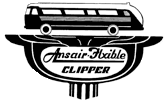 THE FLXIBLE CLIPPER IN AUSTRALIA.
In 1948, Pioneer Tours, part of the R.M. Ansett organisation imported their first Flxible Clipper from the Flxible Company in Loudonville, Ohio, USA. After evaluation by Pioneer, Melbourne company Ansair pty Ltd, also part of Ansett, obtained a licence from the Flxible Company to build the Clipper in Australia. Ansair built 131 "Ansair Flxible Clippers" between December 1950 and June 1960, both for the Ansett organisation and other operators. The imported prototype, powered by a straight 8 cylinder Buick engine, was converted to right-hand drive by Ansair and began tour operations in January 1949.
Most of the coaches built here were 33 feet long, seated 29 or 33 passengers depending on reclining or fixed seating, had full air brakes, large luggage racks, rear luggage compartment, sliding windows, and public address and radio systems. The chassis and body were all steel with an aluminium roof; jig built in one unit; and incorporated under frames and side pillars to window level. The top, front and rear panels were built in separate jigs and brought together on the assembly line. The engine was in the rear and usually was either a Leyland, Cummins, Deutz or G.M. diesel.
In January 1955, Pioneer inaugurated the first express service between Melbourne and Sydney with Leyland powered Flxible Clippers. They were used on all interstate services until about 1962. Between December 1960 and November 1961, eleven coaches were extended by four feet in the wheelbase, and seating increased to 37. These coaches were transferred to economy express routes between Adelaide, Melbourne, Sydney and Brisbane, until mid 1962 when the economy services were discontinued.
In December 1962, two extensively modified Clippers fitted with air suspension, airconditioning, toilet and washroom, commenced the Adelaide – Perth express route until 1966. Pioneer used a fleet of between 12 and 14 G.M. powered Clippers based in Cooma and operating on Snowy Mountains Tours during the 1960s. By 1972, Tasmanian Coach Lines had acquired 17 Clippers and were still operating them in the mid 1970s. Australian Flxible Clippers were also exported to New Zealand, with Newman's Coach Lines Ltd, Nelson, acquiring six vehicles.
Although no longer viable for large fleets, two club members have extensively restored and refurbished their Clippers for specialised touring services.
Most drivers remember that the Flxible Clipper, with its low centre of gravity, was one of the best handling coaches in Australia, with their operation in snow country being unsurpassed!
(Material reproduced courtesy Ansair Pty Ltd and published in "Australian Bus Heritage", August 1987 – Magazine of the Bus and Coach Society of Victoria Inc.)